Steinfeld's new illusion, "Mail Order Babe",
a.k.a., "the Mini-Magician"
Adam Steinfeld introduces another new original illusion,
"Mail Order Babe!"AKA, the Mini-Magician.
Steinfeld (center) as mini-magician makes things appear in the most hilarious way imaginable, writes a letter, mailing it onstage mailbox, and in an instant a sexy babe, dancer, magicians assistant is delivered via a UPS box. See it live for yourself, only at the MagicLive! show starring Adam Steinfeld.
"I can't believe what my eyes are telling me!" says, Jeanie, NYC
--------------------------------------------------------
FLASH BACK
PHOTO:

Adam Steinfeld (center), makes a network TNN-TV (the Nashville Network) appearance on the Statler Brothers weekly national television show, sharing the stage with, Crystal Gayle and the Nitty Gritty Dirt Band.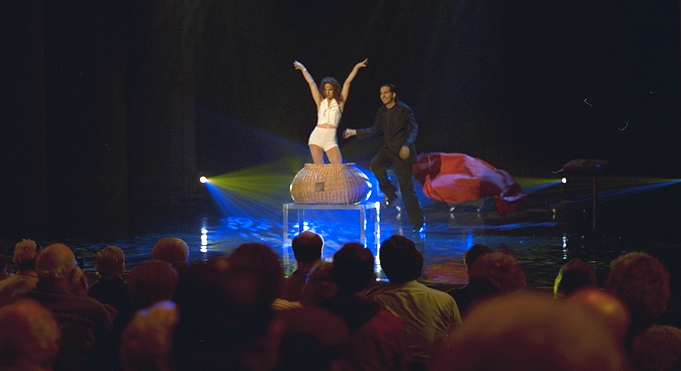 STEINFELD
ON UNIVISION WORLD TV-NETWORK
SUPER BLA BLAZO, TV show.
PHOTO:
(left)
Adam Steinfeld, magician/illusionist,
appearing on network television show, SUPER BLA BLAZO, SLICES a women in half, presenting his original illusion,
the X-Sword
, airing on, Univision TV network. ====== ADAM STEINEFLD, setting a
guinness world record
in magic in 1988 on the Australian, International TV show, "Just for the Record", the segment aired in 52 countries around the world.
Magic Live!®
is a USPTO registered trademark of Adam Steinfeld, in use since 1999